MARITIME FACILITY SECURITY PLAN SERVICES:
Annual Facility Security Plan Audits for 33 CFR 105 facilities
Five-Year Security Plan Re-Approval Documentation
DON'T WAIT – SIGN UP NOW!
TWIC Access Control measures documentation
TWIC Training and IDTA services (via owner/operator
or FSO only)
Security compliance inspection NOV remediation
Port-wide Risk Management Plans under PSGP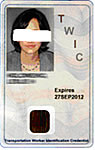 CALL US AT 419-732-2520 FOR DETAILS

To register for current classes, please see the Class Schedule page.

Additional class information can be found on the Class Description page, or contact Laurie at laurie@publicsafetytraininginc.com.